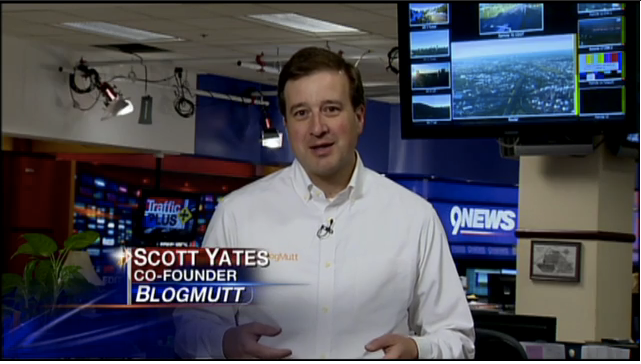 It's a big day for Blogmutt!
It started early, with an appearance on Denver's leading TV station talking about Blogmutt, mostly about how we are hiring writers as we were there as the Job of the Day.
Second, we're happy to announce two investors in Blogmutt. Below is the official announcement in which I -- awkwardly -- quote myself.
Third, and this is related, is that the Denver Post picked up the story, too. Big day!
Blogmutt Announces Two Key Investor/Advisors
BOULDER, Colo. -- Blogmutt, the most beloved blog writing service on four paws, announced that two of Colorado's best-known tech CEOs have invested in the Boulder-based startup.
The two investor/advisors are Jim Franklin and Jon Nordmark. Franklin, CEO of SendGrid, which recently closed its own $21.6 million round, was recently voted the best mentor in the world for his work mentoring Founder Institute startups. Nordmark, CEO of UsingMiles, founded eBags, and is an Ernst & Young's Entrepreneur of the Year for the Rocky Mountain Region.
"These are two of the most respected tech CEOs around. Having those two invest is a huge validation of our market, our model, and our traction," said Scott Yates, Co- founder and CEO of Blogmutt.
Blogmutt currently serves more than 100 business customers from around the world with a crowd of writers. Customers get to pick their favorite post every week, and writers get to pick what, and for whom, they want to write. Business customers pay $79/month to get one blog post they pick per week.
"Scott and Wade are in their third time running a successful company together. They are the right team, in a huge market with a great idea," Franklin said. "I'm looking forward to watching them grow," Franklin added.
"I've watched Blogmutt make fantastic progress over the last year," Nordmark said, adding: "We use Blogmutt as one of our sources of content at UsingMiles, and we are struck by the ease of use, the quality of the content, and stickiness of their service for business customers."
For more information, visit Blogmutt.com.