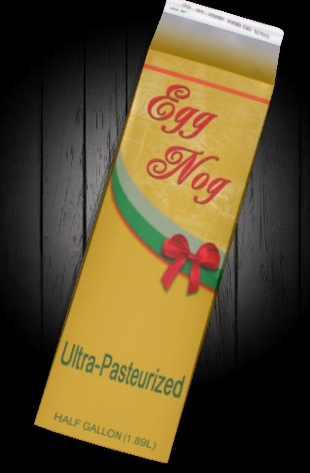 by Ruth Bremer
One unique and helpful feature for BlogMutt writers is a forum where we can ask questions, seek advice, or make comments and suggestions. The other day on the forum, a writer posted that while doing research, she googled some keywords related to one of the customers, and that customer's blog popped up in the #2 spot on the results page. "I guess panda, penguin, pretzel whatever is working," she noted.
BlogMutt CEO Scott Yates replied to her post by saying: "When we started BlogMutt, blogging was a key piece of the puzzle for small businesses to get found by Google. Now it's more like the egg in eggnog."
I wasn't quite sure what he was getting at, so I inquired about what he meant. What exactly had changed about blogging for small business in the past year? And was I perhaps missing the analogy because I don't like eggnog? (Eggnog seems like such a fun and festive drink, I really want to like it, but I just can't. It's simply too thick and creamy and..."egg-y" for me, I guess. When I see eggnog all I can think is, "Let's make french toast." Definitely not, "Hey, pour me a tall glass!")
Anyway, after the thread strayed a bit off topic, including one writer's advice for properly preparing homemade eggnog with a "touch" of rum (because that's the kind of behind-the-scenes fun we have on the BlogMutt writers' forum), Scott replied with this explanation: Blogging is the single ingredient that makes SEO work for small business.
In other words, blogging used to be AN ingredient, but now it has become THE ingredient for a small business. Eggnog has several ingredients, including milk, sugar, cream, nutmeg, and of course, just a "touch" of rum. You can also throw in some cloves, cinnamon, vanilla, or whiskey. But for sure, the one ingredient you can't do without is the eggs. Otherwise, you're stuck with mere "nog." And nobody wants to come to your party and drink egg-less nog.
But why has blogging become "the egg in eggnog" for small businesses? Well, it has to do with all that "panda penguin pretzel whatever." SEO has changed, and it will continue to change. A decade ago, search results were basically just keyword-based. That's why you'll still see web pages that are stuffed with keywords, each with a link to a site that wants to sell you something. But you'll see those web pages less often, because Google has moved toward rewarding valuable content with higher page rankings.
Google is testing and tweaking their algorithm process all the time, as this article explains. Last year that company ran around 20,000 experiments in a quest to improve the quality of results. According to the story, Panda and Penguin, two recent high profile algorithm changes, have significantly improved the user experience. When someone enters a search query, Google is getting better at figuring out what that person is looking for, not relying so much on keywords to find the answer.
Are keywords still important? Well, keywords are like the nutmeg in eggnog: an ingredient that should be used sparingly. Keywords are helpful only to the extent that you use them naturally within your content. If your blog stays on-topic, the keywords will pretty much take care of themselves by appearing naturally within your text. They will not, however, appear naturally a dozen times per paragraph. And there's nothing wrong with linking one keyword to your business web site, either. That's like the "touch" of rum you add to help everybody loosen up a bit and have fun at your party. Linking ten keywords in a single blog post is like dumping in the whole bottle of rum, and before you know it your guests are arguing about the 1984 presidential election or dancing on your glass coffee table.
As a small business owner, you don't have time to keep up with every single Google algorithm change. Fortunately, you don't have to. All you need is a up-to-date blog with quality content. So as you plan for the upcoming year, make sure you have some eggs in your SEO eggnog. Keep in mind, however, that you don't necessarily have to provide the eggs yourself--it's okay to borrow some from the neighbors. As critical as blogging is, most small businesses just don't have the time or resources to create useful, engaging, interesting blog content on a regular basis. If you find yourself in that situation, contact us and let our team of experienced writers provide you with content that both Google and your readers will love.
Just a little something to ponder as you sip your festive holiday eggnog. As for me, I'll stick with hot cocoa with a "touch" of Baileys.
Editor's Note: Usually I have something to add to the posts, but this one is stands just fine on its own so I'll just link to our explanation of this series, and wish you and yours all the best of the season. -- Scott